For a welder, the most important thing for him is related to his job; welding helmets is one of them. All the welders want to survey the best welding helmet brands to choose one of the best for them.
They want the welding helmet that can provide safety from every harm or dangerous condition and provide them comfort. So, they can do their work without any disturbance as, the welder's work needs full concentration towards the task.
A little inattention can affect the work as well as the welder too because welding can cause you burns, electric shocks, explosions, harm with scars, spatters, bits of small particles or dangerous radiation like ultraviolet or infrared rays. There are many other factors which welders look at before taking a welding helmet.  Here, we are showing you the 5 welding helmets of the top welding helmet brands.
Let's get started.
Our Top 5 Picks –Best Welding Helmet Brands in 2022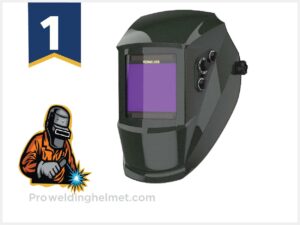 YESWELDER is one of the best welding helmet brands. Here, showing you one of its great welding helmets whose model number is EH-091X. The headgear is styled in such a way that it is adjustable and has an oversized cushion in it, allowing more comfort. The 4 arc sensors provide an auto-darkening filter in best means and respond in a short time even less than 1/30000.
The large viewing area of 4×3.7 inches provides more visibility by providing a full range of view. The true color technology in this provides very clear vision and allows you to see more. The optical clarity of 1/1/1/2 enhances visibility by lessening the lime green tint. The reduction of this lime green tint also reduces the eye strain.
The external control of this welding helmet allows different adjust abilities such as for sensitivity, delay time, shade range and others too. The sensitivity has step-less control. The delay time can be adjusted between 0.1 to 0.85 sec. The auto-darkening wide shade is under the range of   4-5/9-13. It allows Ultraviolet or Infrared radiations not to enter inside the welding helmet.
There is a comfortable shifting between grinding, welding or shifting buttons. There are two types of batteries inside it; solar-powered battery and another one is made of lithium metal and is replaceable. So, you can change it when the battery gets low.
The average battery life of it is 3000 hrs. It is best for different types of welding grinding or cutting like TIG, MIG, MMA, Arc welding or plasma cutting. You can get it nearly equal to $89.99 which is reasonable according to the features it allows.
Product Key Features
Large view area
Lightweight
Meet CSA Z94.3, EN379 CE and ANSI Z87.1 Standards
Pros
Comfortable
Easy adjustments
Cons
Cheaply made headgear
Sometimes, flashing issue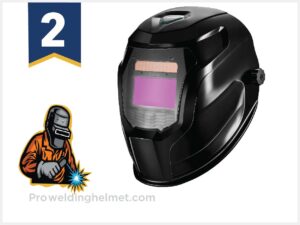 As the name of this company DEKO (Designated for Extraordinary Kindness Only) suggests they provide their customer best services so they remain kind, not frustrated by their work. This company is the best welding helmet company as it promises its customers to give the best resources for less price.
This welding helmet provides full head to neck coverage to save welders from any sparks, burns, particles strike or other hazardous radiations. The headgear is adjustable and designed in such a way that it is comfortable for everyone with different sizes and provides stability. The knobs on both sides of the welding helmet allow you to adjust the field of vision according to your work need.
The double-layered auto-darkening filter of this welding helmet works very efficiently that it responds just in 1/15000 seconds during hazardous conditions and saves you from it. This welding helmet can withstand high temperature during welding. The switch time ranges from 0.1 sec to 1sec and you can set sensitivity low or high according to your need.
The adjustable shade ranges are 4/9-13. The auto-darkening lenses are of high strength that reflects UV or IR radiations and adjust colors quickly to reduce eye strain and can guarantee eye comfort. The viewing area is 3.94×1.97 inches allowing you clear vision. This helmet is best in means that you can see at different angle by wearing it, which most of the welding helmets don't allow.
The right setting of sensitivity, delay time and shade can adjust according to different works in different environments. The price of this welding helmet is $32.99, which is too affordable according to the features they are providing you.
Product Key Features
Meets ANSI Z87.1 and EN379 Standards
Large viewing area
Pros
Less expensive according to features
Used for many welding, cutting or grinding types
Cons
Light comes in through the top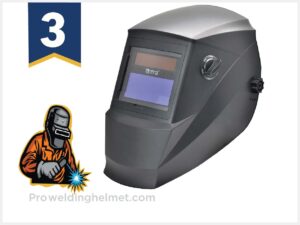 Choosing the best welding helmet is tough. Antra is one of the best welding helmet brands that provides you best features with reasonable price. This welding helmet is light weight that can reduce stress on the head and neck. The headgear is designed in the way that it has multiple joints to provide more comfort.
It covers the head and neck in a good manner that saves you from harmful UV or IR radiations and small pieces. This double-layered Auto-darkening welding helmet eliminates the need to flip up and down the helmet and helps in increasing productivity. There are 4 premium arc sensors in this welding helmet which response in just 1/25000. The automatic ON/OFF system is present in it.
The lens is automatically shut off when in dark for more than 15 minutes. The external switch to grind or weld mode is present in it. The shade range of this helmet is 4/5-9/9-13 which allows more clear vision and visibility. The delay and sensitivity adjustment button are present in it to set according to your need. Other than auto-darkening, one more technology of interference suppression is also present in it which lessen the false trigger.
The blue light is reduced by the blue light suppression lens. It gives the maximum response to welding arc but very less to sunlight or other lights. The battery of this welding helmet is of lithium and solar-powered.
This helmet is best for plasma cutting, grinding, MIG, TIG, MAG or MMA. The 5-9 extended shade range allows great work for plasma cutting or low amperage welding. The price is $45.95 which is good according to its features. The beginners prefer to use this welding helmet.
Product Key Features
Meets ANSI Z87. 1 Standards
Suppression technology
Lightweight
Solar lithium battery
Pros
Safety
Comfortable
Protection
Versatile
Cons
Smallest viewing area
No side views
If you are searching for the best welding helmet brand, Lincoln is one of them which supplies good featured products. Here, we are talking about one of their K3034-4 models. X6 headgear has 6 contact points which distribute weight among the head, abolishes the pressure and is fit on your head makes you feel comfortable.
It is safer for you as it protects your face from different sparks, shocks, burns or other radioactive radiations. The 4C technology in this welding helmet has great importance as it allows good clarity view like a crystal without any blurriness and distortion. This feature allows you to see clear and more visible with optic clarity of 1/1/1/1 and provides a view with good brightness.
The shade ranges from 5 to13 which you can set according to your need whether you do welding, grinding or cutting. The viewing area is 3.74×3.34 inches and provides a more precise, visible and clearer view. The 4 arc sensors in it work very greatly.
The auto-darkening welding helmet switching speed is nearly equal to 1/25000 seconds. The outside cover lens of 4.5 x 5.25 is present which provides a large field view. It also has a cheater lens with it. The welding helmet provides the arc to view more clearly at any angle which you want.
The external grind button allows to switch between welding or grinding easily, so increase productivity by not removing welding helmet again and again. It has controls with adjustments of Shade, sensitivity & delay time. It is best for welding, plasma cutting, grinding or other uses. The battery sources are solar cell which gets charged by sunlight and other battery too. It is best used by welders or hobbyists.
Product Key Features
4C technology
6 contact point headgear
Meet ANSI Z87.1, CSA Z94.3 and EN379 Standards
Pros
Comfortable
Easy to use
Versatile
Cons
Low energy TIG not ideal for this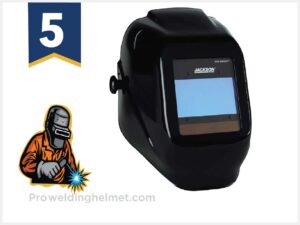 Jackson is considered the best welding helmet company. As it provides a very good variety of welding helmets to their customers and most of their customers are very happy with their products. It has the auto-darkening technique, which is on the light and dark mode by their own because of their sensors inside it.
Most of the welders work for the whole day, so they need a helmet that is light in weight so that they could not feel any burden. The headgear of this welding helmet has a slider of 3 positions by which you can set distance between eyes and lens to reduce your eyes' stress. You can also do strap adjustment to up and down the helmet.
The dialer of this headgear allows adjusting size without removing the welding helmet from the head. Jackson's welding helmet weighs only 6 ounces which do not make your head or neck to feel any stress or strain. You want to buy the product which provides you safety in all means as safety is the priority of any welder.
This welding helmet saves you from every type of spatter, shock, and rays that can injure the welder. This welding helmet contains four auto-darkening sensors which are easy to use the controls. The shade of this welding helmet ranges from 9 to 13 and has other sensitivity and delay adjustment which allows welders to adapt according to the environment by adjusting according to their need.
The viewing area is 3.93× 2.36 inches which makes welders easy to see all sides during welding without any obstacle or taking the welding helmet up. The lens is large enough that it reduces strain from the eyes and provides comfort. So, you can do your work easily.
The average battery time of this helmet is 823 hrs. The amount of this welding helmet is $166.60, which provides all of the best resources. This is used by student welders, professional welders or DIY hobbyists.
Product Key Features
meets ANSI Z87.1+ standards
Lightweight
Pros
Long-lasting
Comfort
Stability
Cons
Glare on a helmet may annoy some people
if you are intrested to review more about Best Welding Helmet for Beginners
click here